Vintage British Cables is dedicated to providing you with the best quality replacement SMITHS Speedometer Cable & SMITHS Tachometer Cable for your classic Post War British motorcycle.
Your BSA, Norton, Triumph or other classic British Motorcycle can have the same length cable it left the factory with.
We can manufacture custom motorcycle speedometer cable lengths as required. Custom length motorcycle speedometer cables and custom motorcycle tachometer cables can usually be made at no extra cost.
We manufacture reproduction SMITHS motorcycle Speedo cables & SMITHS motorcycle Tacho cables using Original SMITHS Hydraulic Presses, Dies, Fittings, Drawings & Specifications.
At Vintage British Cables we use authentic steel armor on cables that specify it. Your Motorcycle Speedo cable or Motorcycle Tach cable will look and function the same as when your bike was new. We provide accurate replicas that are needed for Concours quality restorations.This is an important detail in motorcycle restoration as the cable is clearly visible. If you know what to look for, you can easily spot a poor reproduction motorcycle cable from a distance. 5 points are typically awarded for correct cables.
Many distributors will only stock a limited range of cables that will come "close" to the length you need. Now you can have the exact factory length.

Our motorcycle cables are manufactured with authentic steel armor when specified. The cable for your BSA, Norton, Triumph or other make will look like the original.
We can cross most old SMITHS part numbers for flexible drives over to the newer parts codes.
We can make cables to fit most Veglia and VDO instruments as well as many vintage Japanese instruments.
We can make custom cables to cross over between Smiths and Veglia, VDO or Japanese.
We can make cables for Aermacchi motorcycles.
We ship next business day.
We accept credit cards through PayPal or by phone.
GST added to sales within Canada.
We can repair or restore your Smiths instrument for your motorcycle.
---
Click on your Marque below to find your Motorcycle Speedometer Cable or Motorcycle Tachometer Cable

---
Chronometric VS Magnetic

The nut on the left is from a cable for a SMITHS Chronometric Instrument. The nut on the right is from a cable for a SMITHS Magnetic Instrument.
Cables for Chronometric and Magnetic instruments should not be interchanged. Cable protrusion length is different and instrument damage is possible.

SMITHS part numbers starting with DF11 (DF11xx/xx) are for Chronometric and Part numbers starting with DF91 (DF91xx/xx) are for Magnetic instruments.
SMITHS part numbers with an "11" before the slash (DFxx11/xx) indicate a spade drive cable. Replacement spades are included with these cables.
Chronometric instruments are found on motorcycles up until 1962-63. From 1964 onwards most SMITHS instruments were magnetic.

---

We use authentic plated steel armor on cables that specify it. We can add armor to any custom cable.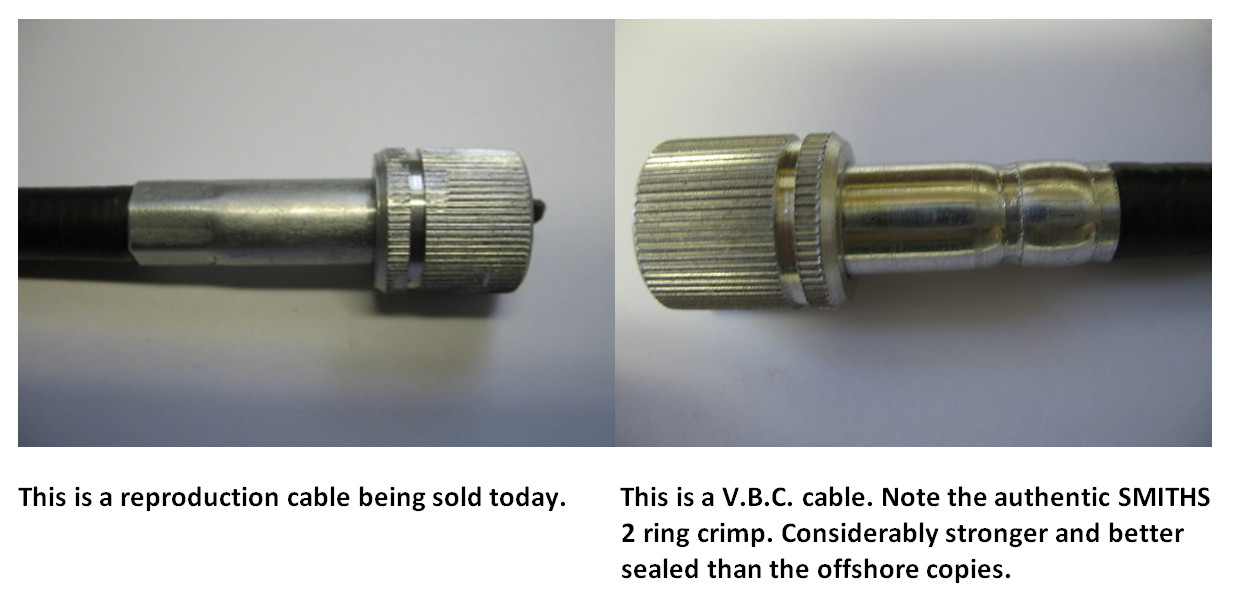 Measurement of Speedometer Cable

The nominal length of a flexible drive is measured between points 'A' and 'B'.
Over length cables can cause problems and cable bends should be kept to a minimum. Inner cable length will decrease 11/16" per 360 degrees of bends.
---
The links to technical data below are for information purposes only.
Quality SMITHS motorcycle speedo cable and motorcycle tach cable for your classic British motorcycle.
To find the exact match for your motorcycle cable please use the links at the top of the page. Custom cable lengths made to order.

Contact us
if you need help to determine the correct cable for your motorcycle or if you require a custom length motorcycle cable.